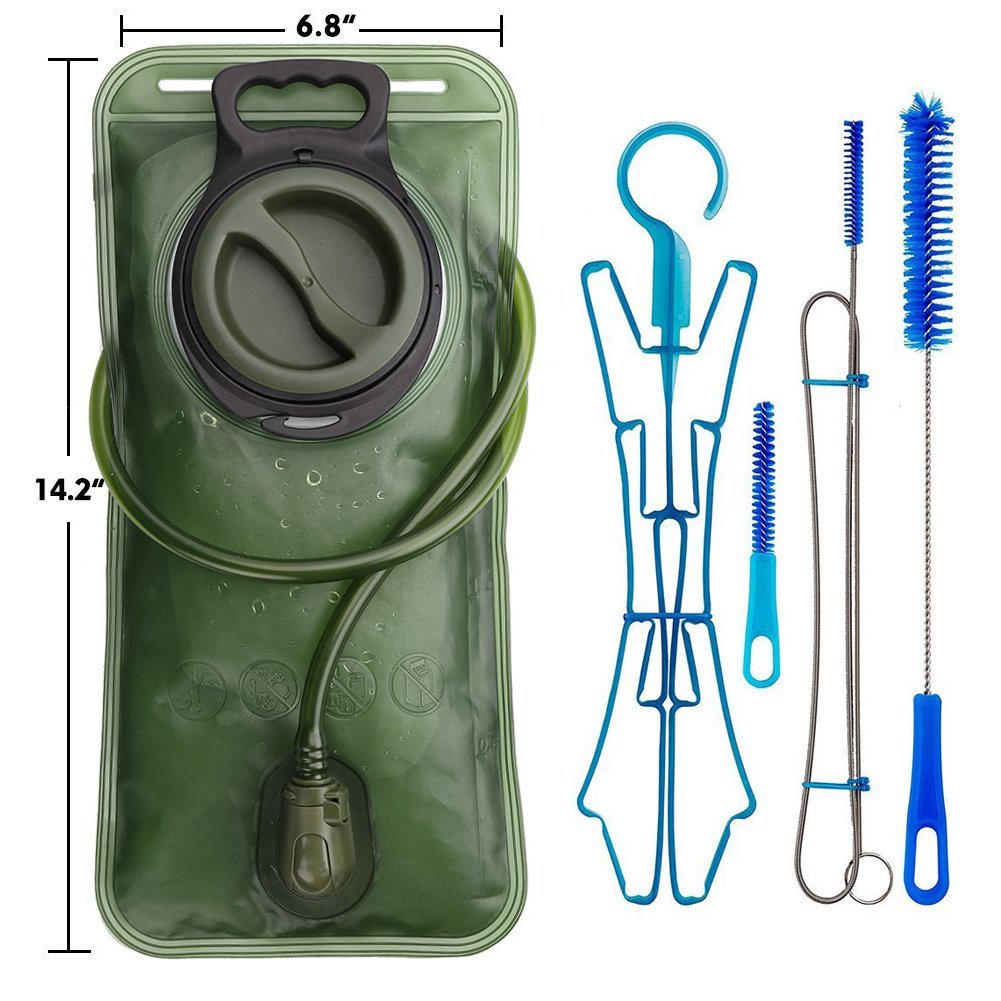 Hydration Bladder 2 Liter Leak Proof Water Reservoir/ Cleaning Kit, BPA Free Hydration Pack Replacement
Product description:


Whether you are riding your bicycle, hiking up a mountain, or simply going for a stroll at your neighborhood park, this hydration bladder will help you have access to clear water and remain perfectly

Manufacturer Part Number: OD0238-VTUSF
UPC: 6971435243093
Color: Army Green
Capacity: 2L
Weight: 200g
PRODUCT INTRODUCTION
Whether you are riding your bicycle, hiking up a mountain, or simply going for a stroll at your neighborhood park, this hydration bladder will help you have access to clear water and remain perfectly hydrated at all times!
Features:
Easily accessible ON/OFF valve prevents leakage.

Soft bite Mouthpiece designed for Easy Sipping.

High-flow bite valve with dust cover.

The tube size is good for providing a wholesome flow.

Insulated tube resists temperature changes in hot and cold weathers.

Drinking Tube is detachable for better storage.

Auto-shutoff valve prevents leaking when the tube is detached.

Premium anti-bacteria material, non-toxic, BPA free, SGS and FDA certified.
Taste free, won't leave a bad flavor in your drink.

Smooth Inner surface prevents germ and lime from adhesion.

Wide opening for easy filling, cleaning, draining, and ice insertion.

Measuring scale helps you check on the amount on water left on it.

Double soldering sealing side improves durability.

Pressure tolerant and does not wear out from active outdoor uses.

Ergonomic, portable design.

Compatible with most hydration packs.
Specifications:
Capacity: 2L

Color: Army Green
Empty Size: L 14.2'' x W 6.8''

Mouth Diameter: 3.54''

Drinking Tube: L 40'' x D 0.4''

Weight: 200g
Suction nozzle: Silicone gel
Package Contents:
1 * Hydration bladder

1 * Quick release tube with shutoff valve
1 * BIG BRUSH to clean the inside of the water pouch (length 15,7inch / 40cm)
1 * SMALL BRUSH perfect for mouthpiece cleaning (length 5,1 inch / 13cm)
1 * FLEXIBLE BRUSH excellent for tube cleaning (full length 40,5 inch / 103cm)
1 * DRYING RACK / FRAME for easy air drying of your bladder (length 13inch / 33cm, min. width 1,6inch / 4cm, max. width 15,1inch / 13cm)