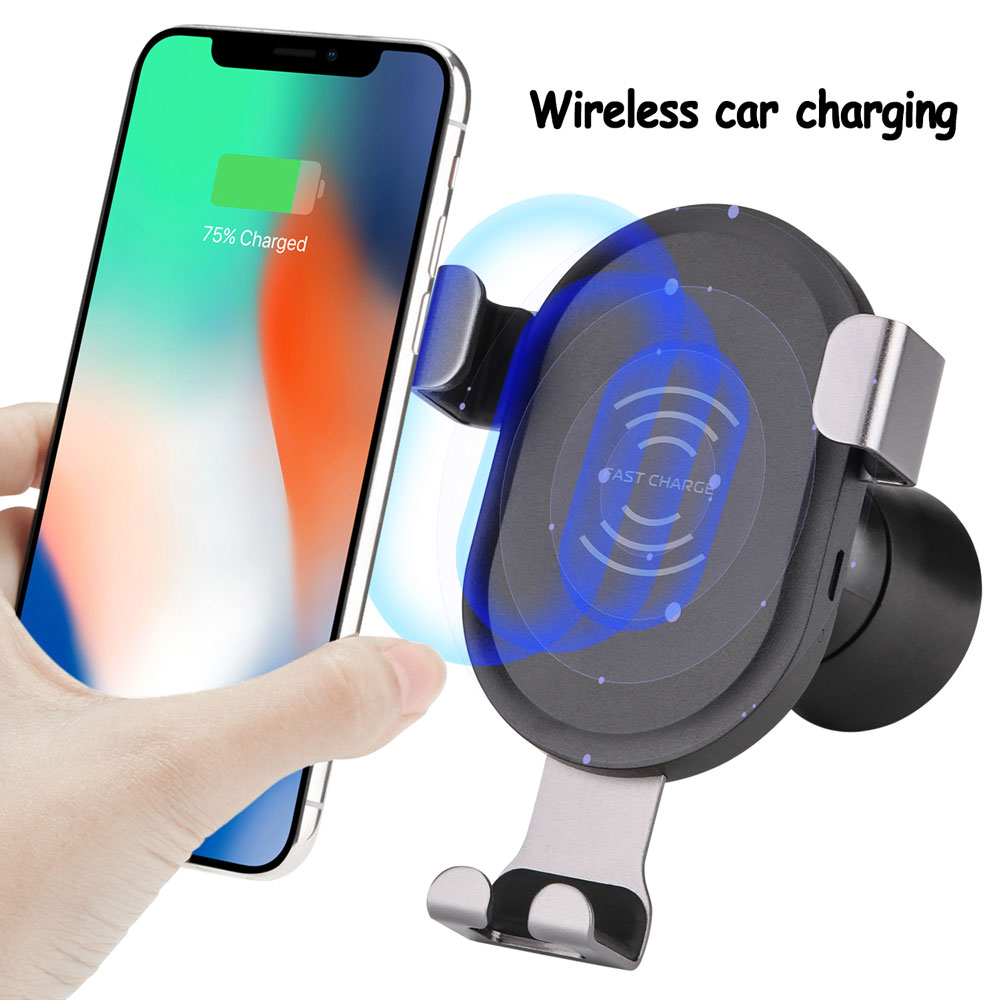 HK Car Mount Qi Wireless Charger Adjustable Gravity Air Vent Phone Holder Stand For iPhone X 8 Plus Samsung S9 S8 S6 Edge Plus Note 5 Note 7 Note 8 Smartphones Black
Product description:


Suitable for Mobile Phones with wireless charging function(4.0-6.5 inches), support for Apple/Type-C/Micro Devices.

Part-number: CP0113
Colour: Black
Material: PC+Silicone
Fixed Position: Air Outlet
PRODUCT INTRODUCTION
2 IN 1: Wireless charger and car phone mount are combined as one. Power your device on the road without the need of messy cables inside your vehicle, we combined the most convenient method of mounting your phone with the most convenient method of charging your phone. Its quick mount technology allows for a safe and secure quick phone mounting together with a 360-degree rotating cradle that provides flexible viewing making this wireless charger the real deal.
MOUNTING: Quick and easy slide-in phone mount allows for a secure hands-free experience. Simply drop your phone inside the mount with just one hand. As you place your phone inside, the clamps automatically fit to your phone with a secure grip around your phone.
QUALITY MATERIAL: Anti-scratch & anti-slip PC and Silicone material base padding for a secure and safe grip, allowing for a worry free travel. Go over humps or a dirt trail and your phone will remain in place while charging. Built-in wireless charging chip-set.
APPLICATIONS: You can securely install this phone holder on almost any vehicles air vents with a hassle-free mounting that is managed in seconds, with absolutely no tools required. Not only can you use this inside your vehicle, but also in your office, your room, your study or pretty much anywhere. You have endless possibilities.
COMPATIBILITY: Suitable for Mobile Phones with wireless charging function(4.0-6.5 inches),support for Apple/Type-C/Micro Devices,compatible with iPhone X series/ 8/ 8 plus,Samsung Galaxy S8/ S8 plus/S7/S7 edge/S6/S6 edge plus/Note 5 /Note 7/Note 8 series devices
Name: 2 in 1 Wireless Charger Gravity Car Mount Holder
Material: PC+Silicone
Colour: Black
Output: 5V/2A, 9V/2.1A
Input: 10W(Max)
Install Way: Clamping Type
Fixed Position: Air Outlet.
Suitable for: Mobile Phones with wireless charging function(4.0-6.5 inches)
Suitable for Apple/Type-C/Micro Devices
For Apple: iPhone X/iPhone 8/ iPhone 8 Plus
For Samsung: Samsung Galaxy S6/Samsung Galaxy S6 edge/ Samsung Galaxy S6 edge+/Samsung Galaxy S7/ Samsung Galaxy S7 edge/ Samsung Galaxy Note 5/ Samsung Galaxy Note 7/ Samsung Galaxy S8/ Samsung Galaxy S8+/Samsung Galaxy Note 8
Other: Mobile Phones with wireless charging function
Note: Other Mobile Phone (iPhone 5/6/7 Series、HUAWEI、Xiaomi、OPPO、VIVO and ect), you will only have to purchase additional wireless receiver to use the product.
Wireless Charger in Car:

The wirelss charger is designed for cars, you can put down your phone and then charger in car.

Gravity car mount:

Used Gravity mechanical principle, it can be automatically locked with gravity after a mobile phone is placed inside and it can be automatically unlocked by losing gravity after the mobile phone is taken away.

Intelligent and Quick Charge:

Built-in intelligent clip, self-adaptive to the device required current and then charger quickly. Support 9V/1.67A quick charge and 5V/2A standard Charge.

Convenient One-hand Operation:

You just need put into your phone and the two functions of navigating and charging in one-hand operation will be achieved, which will be very quick and convenient.
Package Included:
1 * 10W Qi Wireless Charger Gravity Car Holder
1 * Charging Cable
1 * manual