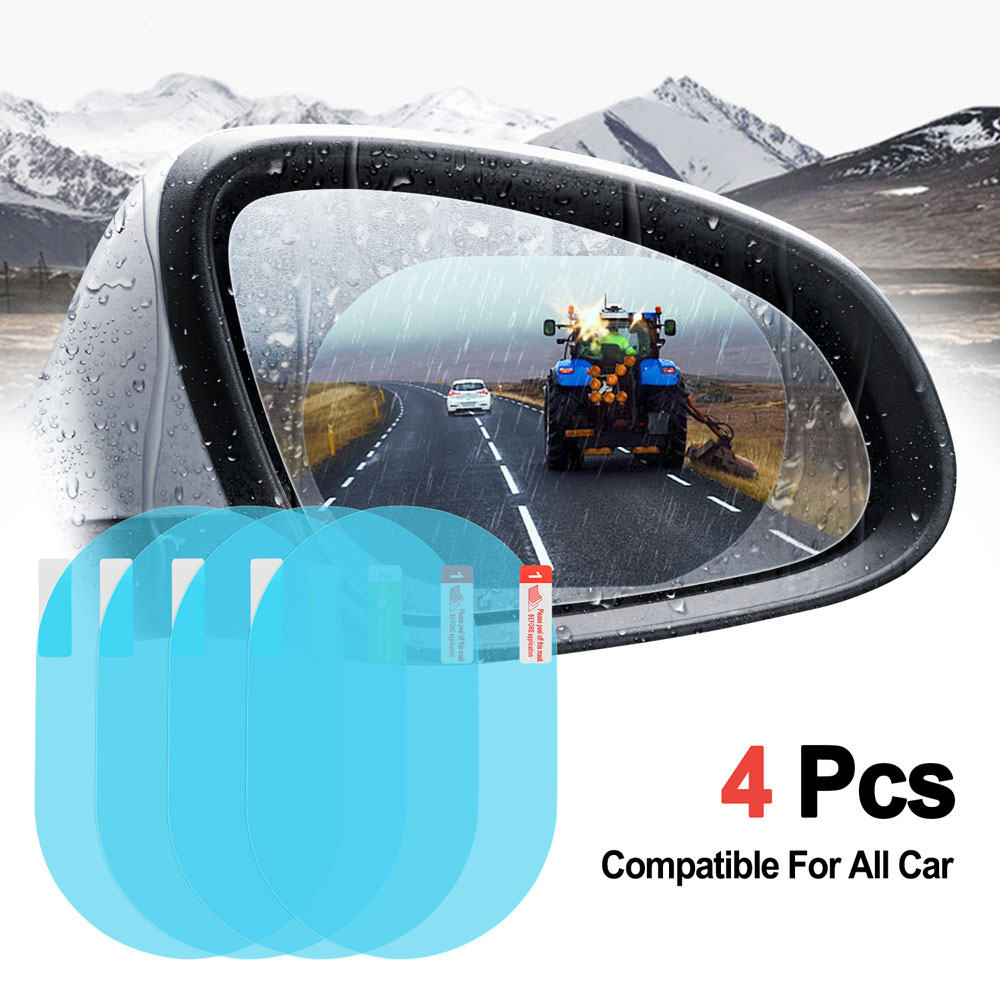 Car Rearview Mirror Film, Car Rearview Mirror Anti-Water Anti-Mist Film Anti-fog Anti-explosion Anti-glare Film, Waterproof Rearview Mirror Window Clear Film for Cars (4PCs)
Product description:


Universally designed rearview mirror protective film for automotive, SUV, truck, trailer, etc., suitable for all standard size side mirrors.

Part-number: CE0308
Color: Transparent
Round Diameter: 14.6*10cm
Material: PET
PRODUCT INTRODUCTION
【Compatibility】Universally designed rearview mirror protective film for automotive, SUV, truck, trailer, etc., suitable for all standard size side mirrors.
【Multifunctional protective film】It will give you and your car an unprecedented sense of security .It could clarify the view area for averting possible danger, for example, helps you to forecast the next surroundings when passing or changing lanes. It can protect your driving sight line in the rainy day. It is an innovation and it can solve your trouble that you can't see the rearview mirror clearly in the rainy day. It's waterproof and anti-fog with good effect.
【Waterproof Membrane Nano Coating Technology】PET+Nano coating protective film with 99% transmittance, anti-fog, anti-glare, anti-mist, waterproof, rainproof, which effectively clearer your sight and better view in a rainy or foggy day.
【Perfect Protection】Shield and protect your Rearview Side Mirrors from unwanted scratches, smears, dust and dirt, so as to keep your rearview mirror clear all the times. High strength and high transmittance.
【Easy to Install】Electrostatic absorbing, fast exhaust, strong adsorption. Just take a few minutes to install it to your Rearview Mirror directly, squirt a little water on the mirror, install the protective film to the mirror and adhere it, then flatten it with a small scraper, quick and easy.
Color: Transparent
Car Rearview Mirror Protective Film
Round Diameter: 14.6*10cm
Package Weight: 20g
Material: PET
Package include:
4 * Car Rearview Mirror Protective Film
Easy Installation:
Clean the glass surface to make sure there is no dust or foreign objects
Spray the evenly pure water on the mirror surface
Tear off the transparent protective film, affixed to the mirror surface
Choose the right position, slowly paste from top to bottom
Remove air bubbles and moisture with cleaning cloths and scrapers
Finally tear the top protect film. Finished
Anti-fog film: To prevent the mirror produces fog, to prevent the formation of mist in the mirror above the fog.
Antifogging: Due to super hydrophilic hard coating, water droplets can spread over quickly and no dewcondensation.
Anti-Stain: Water goes into between super hydrophilic hard coat surface and dart can be remove easily.
Application: Apply to the car rearview mirror, bathroom mirror, vanity mirror and other glass mirrors.
NOTICE: This product is Soft Film, but Not Tempered Glass!