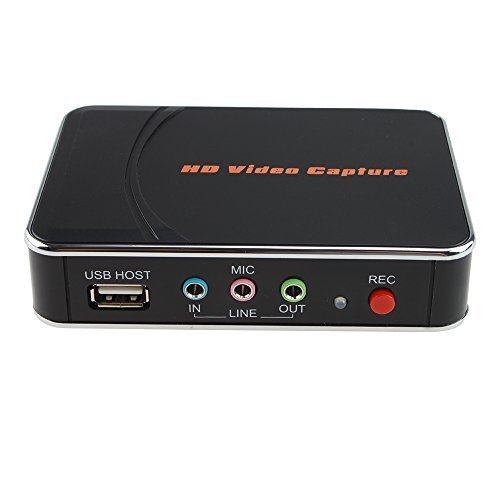 HD Game Capture HD Video Capture 1080P HDMI / YPBPR Recorder Xbox 360 & One/ PS3 PS4
Product description:


Package Contents: 1080P HDMI/YPbPr Recorder, Component Video Audio Connection Cable, HDMI Cable, Power Supply, Video Editing Software CD

UPC: 700697039856
HDMI: WiiU, Xbox 360, Xbox One, PS4
Component: WiiU, Xbox 360, PS3
PRODUCT INTRODUCTION
Note:
it only works with device with component video input if you want to record your voice.
PS3/PS4 has disabled HDCP for firmware 1.7 or later, so you can easily record game play with ezcap HD VIDEO CAPTURE.
Used on PS4 needs to be set:Go settings---System disable "Enable HDCP" option
If it is used in blue-ray DVD, XBOX ONE, XBOX360 (HDMI RECORD), PS3 (YPBPR RECORD), you need to pick up a1*2 HDMI splitter or HDMI TO HDMI Converter.
Application Connections with Game Consoles:
HDMI: WiiU, Xbox 360, Xbox One, PS4
Component: WiiU, Xbox 360, PS3
Standards:
Storage Media: USB Flash Disk, Portable Hard Disk (exFAT format is not supported)
Input Resolution / Pass-through: 720 x 480 (60p), 720 x 576 (50p), 1280 x 720p (50p), 1280 x 720p(60p), 1920 x 1080 (50i), 1920 x 1080 (60i), 1920 x 1080 (24p), 1920 x 1080 (25p), 1920 x 1080 (30p), 1920 x 1080 (50p), 1920 x 1080 (60p)
Capture Resolution: 720 x 480 (60p), 720 x 576 (50p), 1280 x 720p (50p), 1280 x 720p(60p), 1920 x 1080 (50i), 1920 x 1080 (60i), 1920 x 1080 (24p), 1920 x 1080 (25p), 1920 x 1080 (30p), 1920 x 1080 (25p), 1920 x 1080 (30p)
Record Format: Video / AVI MPEG4, Audio / AAC Stereo
Record Quality: Max 18Mbps@1080P 30fps
Record File: Max 2GB/per file
Record Place: Max 140MB/minute, 8.4GB/hour
Power Supply: DC 5V 2A
Dimension: 110 * 75 * 27 mm
Package Contents:
1 * 1080P HDMI/YPbPr Recorder
1 * Component video audio connection cable
1 * HDMI cable
1 * Power supply
1 * Video editing software CD