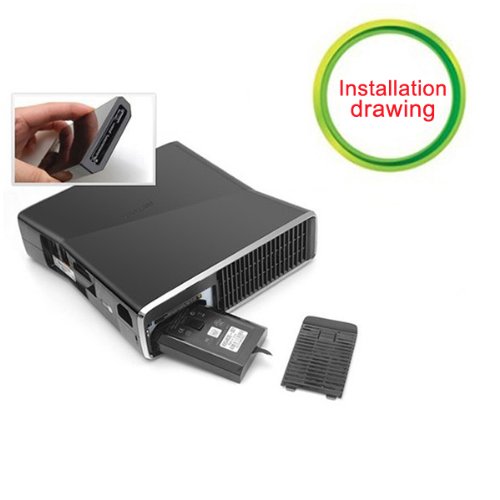 New 500G HDD Xbox Slim Hard drive for XOX360 slim
Product description:


This slim 500GB Hard Drive is especially designed for concentrated XBOX 360 game players.

SKU: VG0017
Capacity: 500 GB
Compatible: New Version Xbox 360E and XBOX360 Slim
Color: Black
PRODUCT INTRODUCTION
This slim 500GB Hard Drive is especially designed for concentrated XBOX 360 game players. With this item, Enhance your experience on your new Xbox 360 console with downloaded media and Xbox games.
This hard drive 500 GB for Xbox 360 Slim provides an all-purpose storage solution for media lovers and gamers alike. It can be used to save your level in a game, as well as to store media such as Xbox games, music, movies, photos, from Xbox Live Marketplace, and more!
Features:
You will be able to install your games into this item from your game discs to reduce game loading time.

With this item, the CD driver of your XBOX 360 will stop operation, thus the noise of disc reading can be reduced and operation heat will be lower.

It allows you to save your game, Xbox LIVE gamer profile, game demos, other add-ons,and custom soundtracks from Xbox LIVE Marketplace.

It can help to download and save tons of HD movies, television shows, videos, and more. It works exclusively with all versions of new Xbox 360 consoles.
Specifications:
Condition: Brand New

Capacity: 500 GB

Compatible: New Version Xbox 360E and XBOX360 Slim.

Color: Black

Package weight: 164g / 5.8oz
Package Contents:
1 * 500 GB Slim Hard Drive for Xbox 360
Note: because the drive stored some system files, the available space may be a little less than 500GB,the available space would be about 460GB.