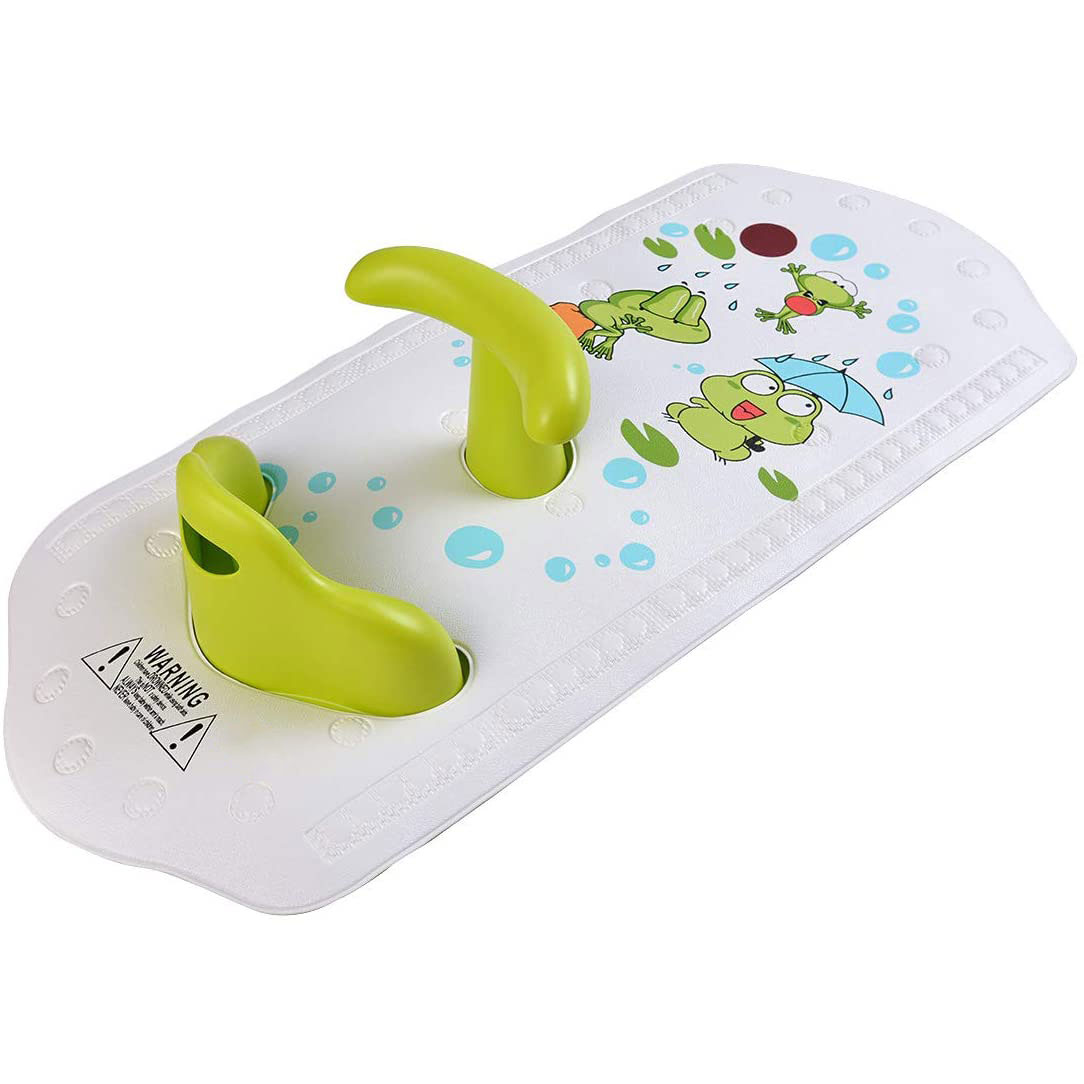 HK Baby Bath Seat Non-Slip Safety Sling Bather with Extra Long Bath Mat
Product description:


Suitable for babies 6m+ who can sit up without assistance Non-slip Infant Heat Sensitive Bath Mat. It is recommended for newborns and babies up to six months.

SKU: WHK0066G-CA
Color: Green
Material: ‎Foam, Polyvinyl Chloride Blend, Polyvinyl Chloride
PRODUCT INTRODUCTION
Suitable for babies 6m+ who can sit up without assistance Non-slip Infant Heat Sensitive Bath Mat.
Safe and Adorable Apperance: With a cute design, your baby will love bathing and enjoy bathing time and have more fun. No longer worry that the baby will slip. It's a good choice.
Intelligent temperature sensors: A hot spot feature gives a quick indication of when the water is too hot. When the water temperature is over 37 degrees Celsius, there will be color change warning. Soft seat cushion can sense the temperature to make you more assured.
Protection Design: Open side allow easy access for washing babies; The T-bar and shaped back support help you baby sit up without slipping around; The strong suction cups underneath the support and the mat allow it to be firmly attached to the bath.
Powerful Suction Cups: The baby bath seat and mat comes with anti-slip suction cups on the bottom, the suction cups allow it to be firmly attached to the bath to ensure the stability and safety.
Premium Material: Baby bath seat is made of environmentally friendly non-toxic leather cushion, breathable and comfortable, avoiding bacterial growth and damage to baby's skin, make your baby feel more comfortable.
It is recommended for newborns and babies up to six months.
Features:
A unique bath support with a fun bright colors, combined with a soft mini mat, to provide additional support at bath time.
This great bath support is full of useful features.
The T-bar and shaped back support helps your baby sit up safely without slipping.
A "hot spot" feature on the mat gives a quick indication of when the water is too hot although we'd still recommend a bath thermometer to check you have reached the optimal temperature.
The suction cups underneath the support allow it to be firmly attached to the bath and it has an easy to clean surface for hygienic bath times.
IMPORTANT!
Make sure that the surface of the bath is clean before fitting the baby bath seat in the bath.
Press the baby bath seat down firmly to anchor all of the suction cups.
Before use check that the bath seat is securely fixed to the bath.
When adding water to the bath, first run the cold water then add hot water.
To ensure that the water is at a correct temperature we recommend using a bath thermometer.
Suitable for babies that can sit up without assistance 6+ months.
About HK Baby Bath Seat
SUCTION CUPS

Our bath and shower mats feature suction cups that work on any smooth and clean tub! We do not recommend using bath oils as they may cause slipping.

When you bought our bathtub mat

The bathroom becomes attractive, kids are not reluctant to take shower anymore.

You no longer have to do everything possible to ask you sweetheart to take a bath.

Your baby will never cry because of falling.

Your baby's skin no longer has to be in direct contact with cold tiles and catch cold.

Ready the Bath

Simply plug the sink drain, insert the baby bath set, and pool water to desired level and temperature.